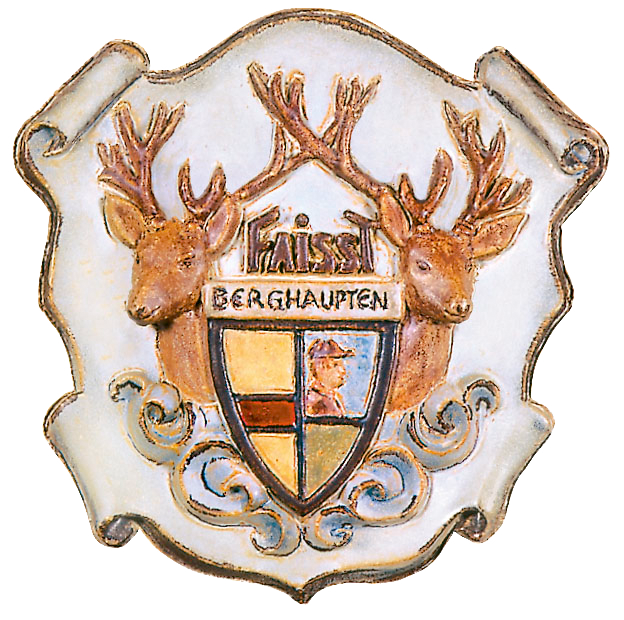 On November 4, 1928, today's Hotel-Restaurant Hirsch *** superior was opened as the Benz Brewery by Hermann and Luise Benz. After a fire, it was rebuilt as the Hirsch Gasthaus and Pension and later run by the second generation Helmut and Hilde Faißt, née Benz.
With Harald and Astrid Faißt, née Huber, the third generation took over the Gasthaus Hirsch in 1984. In 1989 ten hotel rooms were built in the first guest house under her management. In 1998, another extension with 12 hotel rooms, conference rooms and a beautiful garden terrace was completed.

Since 2020, the Hotel-Restaurant Hirsch ***superior has been run by the fourth generation of Sandra Faißt and her husband Yohann Barilleau.
After her apprenticeship as a hotel manager at the Colombi Hotel in Freiburg and interesting positions in Germany, at the Bareiss in Baiersbronn and at the Exelsior Hotel Ernst in Cologne, Sandra moved abroad. She gained international experience and deepened her language skills in well-known establishments. In 2002 she met her husband Yohann Barilleau while working in the two-star restaurant Auberge du Raisin in Cully, in the French part of Switzerland. Yohann had come to Switzerland in 2001 after working in well-known Michelin restaurants of star chef Alain Ducasse in France, Monaco and London.
After another joint stop in Cannes on the Côte d 'Azur, they stayed in Provence for a year. Then they both moved to Zurich, Switzerland, so that Yohann could improve his knowledge of German until he finally returned home in 2006. From then on, Sandra Faisst was able to contribute her experience in the restaurant and hotel of her parents' business, while her husband demonstrated his cooking skills alongside her father. The parents Harald and Astrid Faisst were able to more or less withdraw from day-to-day business and hand over the continuation of the family tradition to younger hands. With two children Noa and Lilou, the next generation is already growing up at the Hirsch.
"The "Hirsch" is an extremely well-kept and well-run family business, where you can stay overnight comfortably, but above all you can eat very well. The kitchen's repertoire ranges from "breaded pork schnitzel" to "sole fillet with shrimp and Riesling sauce". A really friendly and charming service rounds off the picture of the ideal country inn!"
Rating in the MICHELIN Guide
"We chose the "Hotel zum Hirsch" to visit the cities of Strasbourg and Colmar and to test the cuisine, which is very special. The food in the Hirsch is excellent – here you can indulge in culinary delights. The service is very attentive and friendly. The rooms are designed in the Black Forest style. There are enough parking spaces in front of the hotel. We can only recommend the hotel."